According to the Solar Energy Industry Association (SEIA), Virginia ranks 18th in the country for total solar capacity. With the passing of the Virginia Clean Economy Act, we expect that number to increase as the state works towards its goal of 100% renewable electricity generation by 2050.
Distributed solar will play a major and increasing role in Virginia as these measures are implemented. Those net-metered connections that our customers have invested in for over a decade are, as always, an integral part of a more sustainable future.
Besides the chance to invest in a cleaner electrical grid and set an example for our future generations, there are a number of incentives available to our customers here in Virginia that choose to go solar! We want to outline those today.
Residential Solar
The biggest and best incentive for all solar customers continues to be the Investment Tax Credit (ITC), currently offered as a 26% federal tax credit.
This tax credit is set to reduce to 22% in 2021, and then sunset for residential solar customers. Unless legislation changes, adding solar to your home this year, or at least by the end of 2021, means significant cost savings that may never exist again.
The Solarize Blacksburg and Solarize Montgomery campaigns helped many members of our community install solar in 2014. As we moved into a statewide market in 2019, Baseline Solar has continued to look for opportunities for installing solar in entire communities, a group of neighbors, or offer a negotiated rate for a neighborhood or municipality. Those strategies allow us to procure materials in bulk and pass along those savings to new solar customers across Virginia.
Commercial Solar
Baseline has seen an uptick in commercial interest for distributed solar here in Virginia over the past couple of years. We recently completed projects at Eastern Divide Brewery, Hearthstone Apartments, and Mountain Precision Tool here in Blacksburg.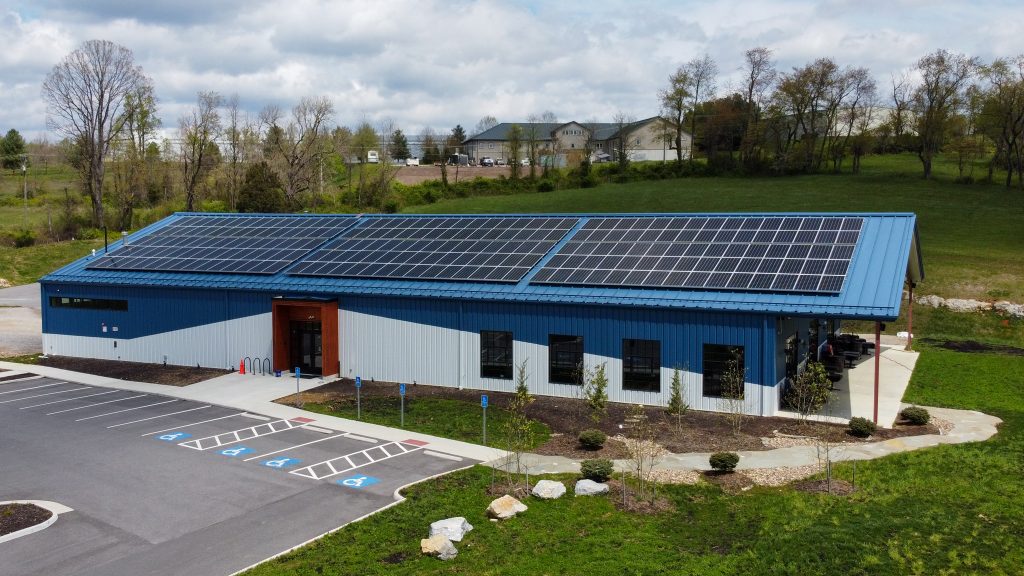 Solar for commercial customers brings a truly amazing set of incentives, building upon the federal tax credit and giving businesses truly excellent reasons to go solar.
Commercial clients, just like residential customers, can take advantage of the 26% federal tax credit for the system. Since commercial systems are often larger in terms of system size, this tax credit can truly bring about significant savings.
Businesses can also use The Modified Accelerated Cost Recovery System (MACRS) depreciation for their solar array. Just like other equipment whose value depreciates over time, this further incentivizes businesses to go solar.
Finally, many of our rural small businesses can apply for the USDA Rural Energy for America (REAP) program, offering grants of up to 25% of project costs on top of the current 26% federal tax credit and depreciation.
Not all members of our large service area meet the criteria for rural small business; however, if you do, it's a truly excellent program offered by the USDA. If you go solar with Baseline Solar, we handle the grant process for you and facilitate the application with our local USDA office.
Solar is emerging in Virginia. We've been in business since 2008, beginning in Blacksburg and expanding to Richmond as the demand for solar continues to increase. There has never been a better, more optimistic time for solar here in the Commonwealth. If we can answer questions about solar or help you understand exactly how an investment in solar could benefit you and/or your business, get in touch today!