Solar infrastructure is really taking hold in the Blacksburg Industrial Park! Mountain Precision Tool just joined its neighbor, Eastern Divide Brewery, as the second business to solarize in the park!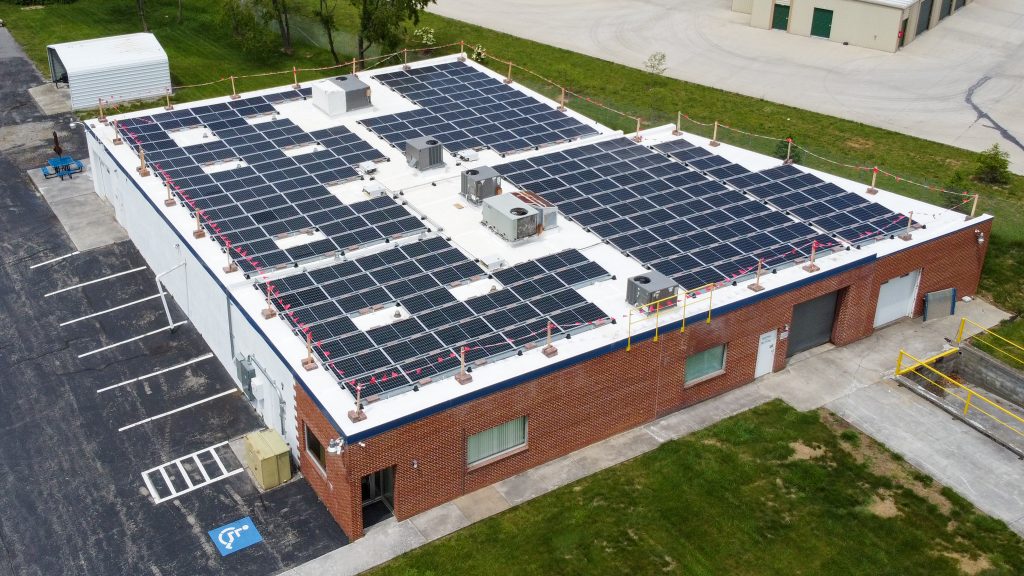 For Russell Drumheller, 2020 was the year to go solar for Mountain Precision Tool. As a machine shop specializing in custom work for electronics, aerospace, and fiber optics, the space is no stranger to electric usage! Offsetting a portion of their consumption with clean, net-metered solar from their roof just made sense.
Our installation crew spent several days at this site, adding 192 Axitec 385w panels to the roof, maximizing solar production while also leaving room for the future service of HVAC and drainage equipment that also shares the roof space.
Tori, the newest member of our Baseline installation crew, got to see her first commercial installation work as well! The added logistics and scale of this project was exciting for her and proved that she was a great fit here, with her mechanical engineering background and love for the environment.
Many businesses here in the New River Valley have come to the same conclusion: net-metered solar is a safe, long-term investment that sets an amazing example for the local community. Alongside the 26% federal tax credit that's available to residential and commercial customers, businesses can also take advantage of MARCS depreciation and USDA grants available, if they meet revenue and geographic requirements.
At Baseline Solar, we're pleased to see how many local businesses are making a statement by going solar, reducing their dependence on nonrenewable energy, and helping all of us create clean, green energy with roof-mounted panels.
Whether you look towards Early Challenges Daycare, Eastern Divide Brewery, Brandon Ridge offices in Christiansburg, or the Virginia Tech parking garage, one thing is certain: solar is here and it's ready for a cleaner future.
If you're considering solar for your business, give us a call or contact us using our online form! We proudly serve Southwest and Central Virginia, with offices in Blacksburg and Richmond.