On a recent morning walk, Patrick noted the clicking of standby generators starting up in his neighborhood. A sure sign of an electric grid interruption, he quickly realized he would need to switch to backup power until the connection was restored.
Heading into his basement, Patrick switched over from grid power to his battery inverter system. As soon as the batteries started supplying power to his home, the washer began running again where it left off. He and his wife were even able to have a pancake breakfast, thanks to the Schneider battery system that backs up loads in their home!
Power outages are disruptive, no matter when they happen. Worse, they can mean disaster for stored food and even medical supplies in refrigerators and chest freezers.
There are many options out there for backup power; however, we really love battery storage here at Baseline Solar.
Batteries are quiet, convenient options for emergency backup. They don't require an external fuel tank and can be recharged, in real-time, by your solar array. The peace-of-mind offered by a battery backup system can be a great comfort, knowing that it's ready when you need it and is not reliant on a fuel truck delivering more propane or diesel.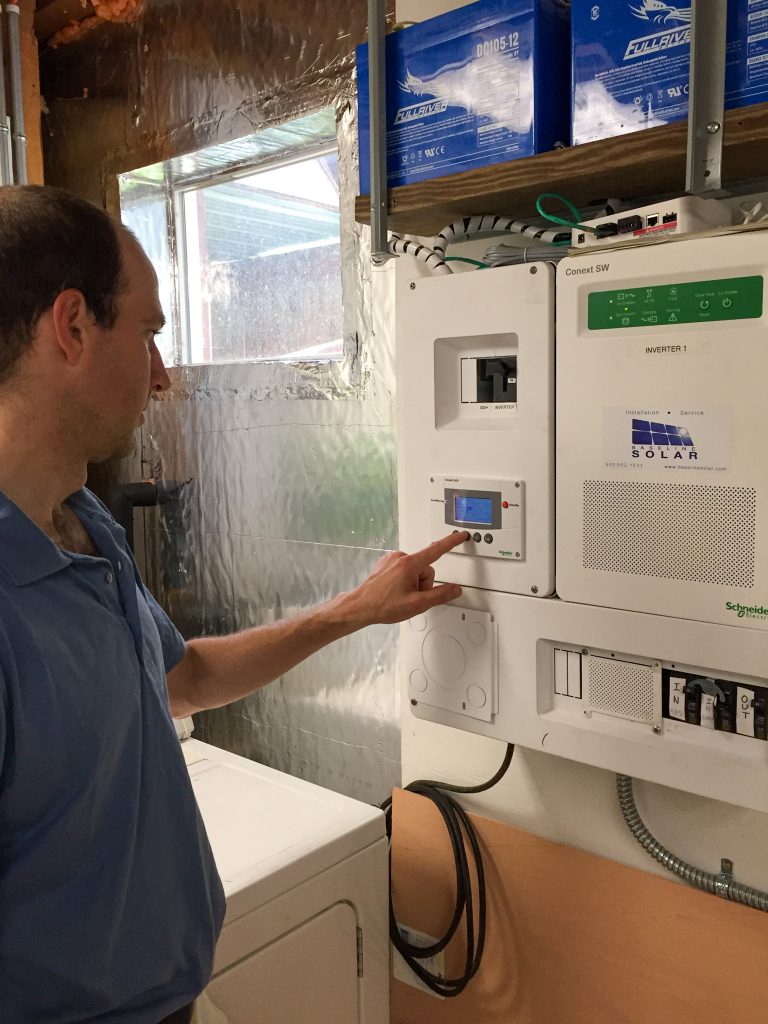 Patrick's battery system utilizes a Schneider battery inverter and has a storage capacity of 2 kWh. That's a small sized battery bank–but one that is still quite capable. This system can run many loads in a house including a refrigerator, chest freezer, microwave, computer, sump pump, general receptacle and light circuits, and more. Since his PV array uses an SMA Sunny Boy solar inverter, Patrick can even charge the batteries using the Secure Power Supply (SPS), which is installed standard on all Sunny Boy inverters.
The Schneider battery inverter is even robust enough to run a well pump or other 240V load when needed. This is a middle-tier solution in terms of the storage products we offer here at Baseline Solar. We also have options if you only need to back up 120V loads, or more robust solutions to back up larger loads both on a residential or commercial scale. All products we install and stand behind are of excellent quality. The difference is mainly centered around the voltage they can accommodate and the specific battery capacity of each system. 
---
Although Patrick himself doesn't need to run a well pump, this Schneider system is amazingly well-suited to our many customers who live in more rural areas and need a solution for their well pump in the event of a grid outage.
---
Adding backup power to your home starts with careful design and thorough discussion of your needs. When you call us, we can walk you through the various manufacturers and products we can utilize, based on your specific needs. Generac, the popular standby generator company, now offers a battery option that is also capable of those 240V loads. We're an authorized installer for Generac as well. Whether you go with Generac, Goal Zero, Schneider, or Outback, we can find a capable, high-quality solution for most any battery application.
If you're considering batteries, give us a call today! Our expert design team will begin the process by asking you questions about your needs and sizing a system to fit your specifications. Battery design comes with a lot of complexity and is something you want experts on-your-side to install. Our team's strong engineering background and vast experience in electrical work means we're ready to help you with all your battery storage needs. Contact us today!