When Anthony Wilson and his family decided to go solar in 2021, it was about independence: "You're making a decision to be independent and generate your own power. It's being able to make a decision to generate my own power."
The system we installed for this customer is very robust. Twenty-four 360 watt panels provide net-metered electricity with Enphase microinverters converting sunlight on a panel-by-panel basis. When we visited Anthony recently, he showed us his real-time production numbers from his phone. Even on an overcast day with his pool heater (the third heat pump on the property!) running, he was generating more electricity than he was using at the time.
Anthony didn't make the decision to go solar lightly. He received quotes from multiple companies and compared them head-to-head. In the end, the Baseline difference won out.
"We brought in a couple other companies and we were really nervous about the fact that a couple of folks who showed up weren't very knowledgeable. I think we learned more on the Internet than most of those folks brought to our house."
Anthony added, "The minute DeWayne got here, he was relaxed, he was knowledgeable."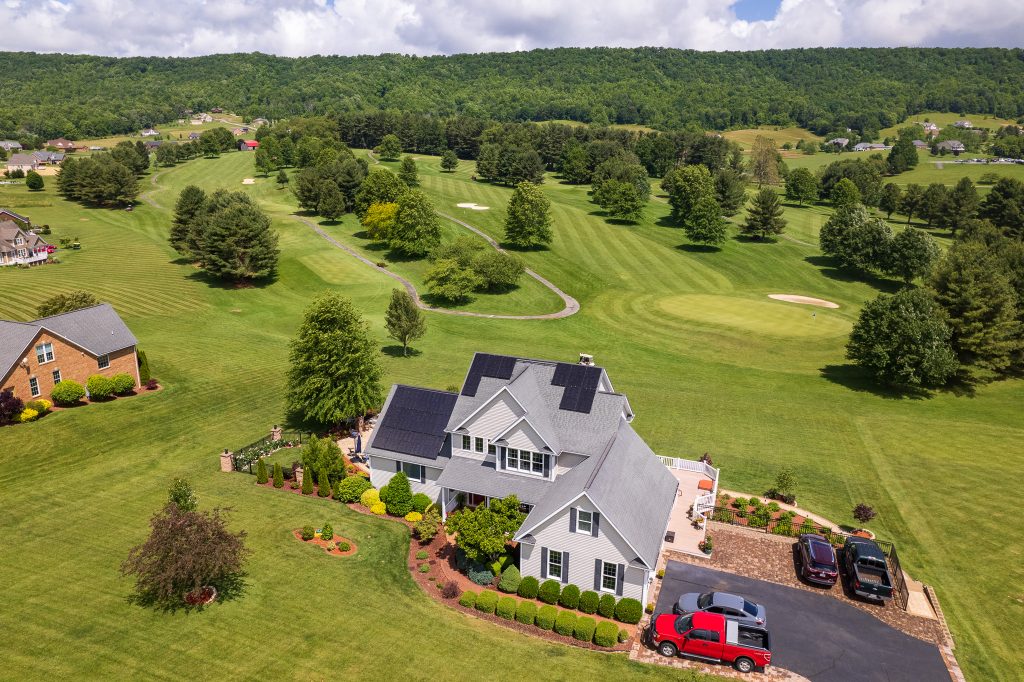 Here at Baseline, we hear that sentiment again and again. Representatives from other companies might not even look at your existing electrical system–that's an essential part of our process. We've even heard of companies that don't measure a roof. With DeWayne and our team, you know you're going to receive a quality estimate, each and every time.
Since installing the system in 2022, it has become very clear that solar was a good investment for this home in Draper, Virginia: "When we first started getting our bills in the summer and we saw that we had a reduced utility bill, that's when we knew we made the right decision. In the spring and fall, we're offsetting well over 100 percent."
Even in the wintertime, Anthony sees big savings, "Our winter bill was more than cut in half. So we're saving over half of our bill."
Savings like that are something many customers can expect with a system that's sized appropriately for their needs. Many of our customers see months where their electric bill is truly just the service charge–sometimes $10 or less. During any month you overproduce, those credits are banked for subsequent bills.
Not only is this system designed to operate like this for decades to come, Anthony noticed the detail our installation crews put into the work. He noted the tucked-away conduit design, the attention we placed on keeping his landscaping safe, and the thorough cleanup afterward.
"On the final day, they just came in to do some checks, we cooked out. That's the kind of relationship it was like with [Baseline]."
That sort of relationship with our customers is what we hope for here at Baseline. We want to be your solar company and your family's solar company. We want you to look back, many years from now like many of our customers have, and know that you made the right decision.
Sponsored : Replica Patek Philippe Browse our best collections
It's truly never been a better time to go solar. The federal incentives are incredible, the technology is more-than-capable, and our crews are ready. If you'd like to receive a free, detailed quote from DeWayne, inquire today. We'd love to show you what makes Baseline different.