Robert and Kim Mulgrew have been fans of solar for many years. They were able to add solar to their home in Wytheville, Virginia in early 2021!
For the Mulgrews, solar is about environmental stewardship, setting a positive example in their community, and saving on their electricity bills. Solar is an excellent way to do all three, especially with electricity rates increasing by 11% in Virginia on July 1 for Appalachian Power residential customers.
"If we help a few people look into solar and see it would help them and also help us take care of this gift we have, then that would be a good thing," Robert Mulgrew said.
Mulgrew added, "We thought it was a way to be a good steward to the planet."
When Robert first contacted Baseline, we were immediately happy to hear from someone as excited about solar as we are. Our designer, DeWayne, visited their home and planned for a system that makes the most of their rooftop space.
Kim and Robert decided on a rooftop array and a layout that maximizes two different areas of their two-story home. Their 28-panel array uses REC's premium Alpha 360W panels and will provide clean, green energy for decades to come.
A couple of days into the installation process, the Mulgrews opted to add an extra row of panels. Fortunately, their roof space accommodated this addition and we were able to expand the system size right away!
Baseline is always happy to accommodate customized needs and technical details!
One of the custom construction details of this particular installation was Baseline's color-matching of the electrical components on the ground floor of the Mulgrews' home. From conduit piping to electrical equipment coverings, we carefully painted each of the installation components to match the dark facade of their home. Since each of our installations are customized specific to our customers' needs, these sorts of touches are not only possible but encouraged!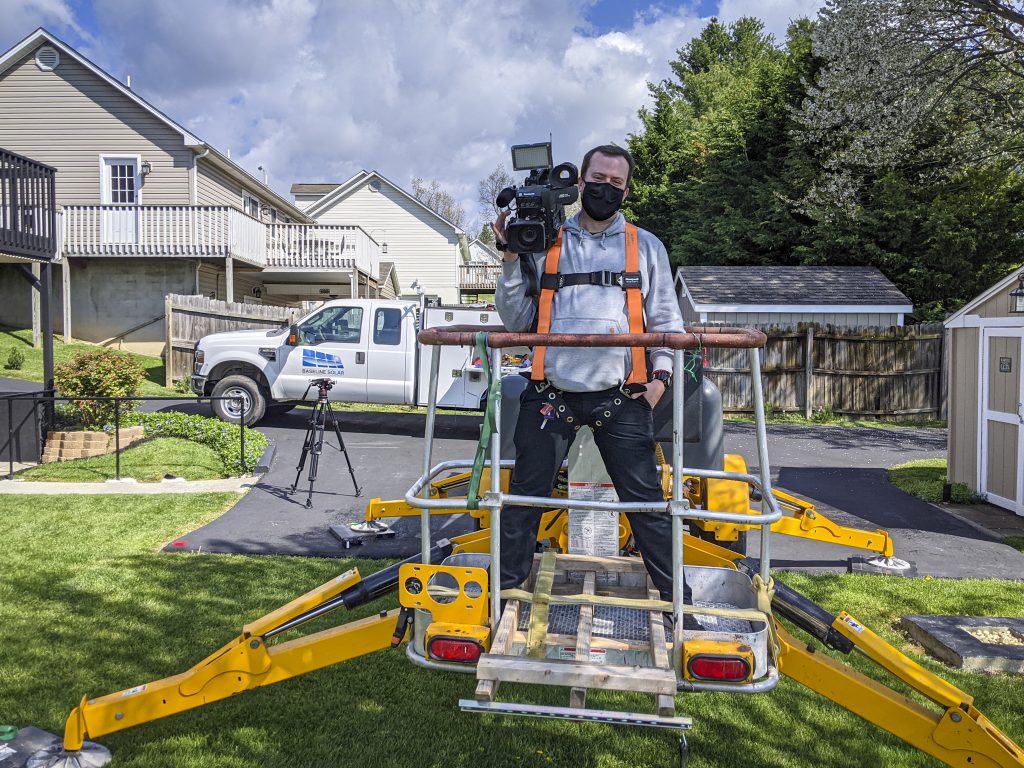 During the middle of the Mulgrews' installation, WSLS reached out to Baseline to collaborate on a story about residential solar in our area. Because the Mulgrews were so excited about solar, we knew they would be a great fit! The video showcases the many reasons that solar is really starting to gain traction in our community. This traction is reflected in our remaining schedule for 2021: we're booking several months out so it's important to get on our list soon!
Here at Baseline, we love meeting families that are eager and excited about going solar. They do so for a variety of reasons and every time, we're proud to give them a thoughtfully-designed and installed system that will perform for decades.
Fortunately for Baseline, we meet amazing folks ready to go solar all the time. We made an easy connection with the Mulgrews, as well as many of our other customers (link to reviews). If you're considering solar and would like to connect with those who are already powering their homes and businesses from the sun, get in touch today! We're always happy to supply references and guide you in making the decision that's right for you.