Solar is good for many reasons: the environment, local communities, and the electrical grid, just to name a few.
When you go solar for your business, it shows customers that you're committed to setting a good example and being part of the long-term local landscape.
It also means financial savings for you, with your electricity needs offset either partially or completely, depending on your needs and array size.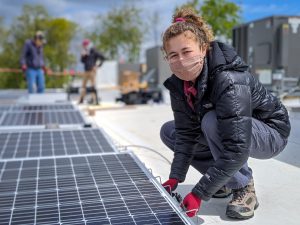 With incentives available, solar becomes an excellent proposition–especially for commercial properties. The 26% federal tax credit, MACRS depreciation, and grant opportunities from the USDA can help reduce the installed cost by up to 75%. All these incentives coupled together result in real savings for our business leaders in rural and eligible parts of the US.
Right now, we're running up against a deadline for those considering commercial solar in our rural places. That could mean you own a manufacturing facility, recreation destination, resort, auto shop, or agribusiness and are wondering if solar is right for you. Get in touch with us soon and we can start the process for you.
If we can hit the November 2nd deadline for USDA Rural Energy for America Program (REAP) grant submissions, this grant–if you're approved–can fund 25% of your solar project. Act fast if that sounds appealing and would help you go solar!
We are no strangers to USDA REAP grant funding. In fact, many of our local commercial customers have taken advantage of this opportunity. Brandon Ridge in Christiansburg, Eastern Divide in Blacksburg, and Mountain Precision Tool in the Blacksburg Industrial Park are just some of our customers who were grant recipients. These grants are truly powerful tools to help our rural businesses go green and set a shining example for our communities.
Waiting until next year to start the process means a 4% loss in federal tax credits. While that will still be a sound investment at that time, that can mean thousands of dollars lost by waiting just a few months. Best of all, projects that are started this year don't have to be completed in-full until 2024 to still take advantage of this year's higher tax credit incentives. If you'd like to read more about this funding opportunity and grant timing, check out this PDF from the U.S Department of Energy: https://www.energy.gov/sites/prod/files/2020/01/f70/Guide%20to%20the%20Federal%20Investment%20Tax%20Credit%20for%20Commercial%20Solar%20PV.pdf
Whether you want to write the grant in-house or have our team at Baseline Solar Solutions facilitate it for you, we're here and ready to answer any questions about how grant-funding can really help solar projects make perfect financial sense here in Virginia. All we need to do now is agree upon a design and make sure the initial application is submitted by November 2nd. Once we have a contract in place, you don't need to make any financial investment into the array until the grant is approved and construction begins.
If solar now sounds like something you'd like to pursue for your rural business, get in touch with Baseline Solar Solutions today!